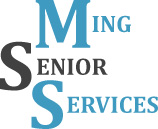 Ming Senior Services was established in 2007 to specifically assist seniors with their health insurance needs. There are so many choices today and it can get confusing. Our staff is here to help you make the right choice.
more about Ming Senior Services

Ming Insurance Group can make it easier for you!  We represent the top rated insurance carriers in Missouri for groups, individuals and families.
more about Ming Insurance